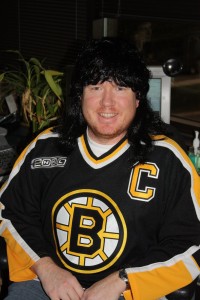 Happy Halloween!  Here is your illustrious host, rocking the hockey jersey and mullet for the office costume deal today.  FYI, since I'm a hockey player, it is pronounced "moo-lay"…  Although, I did have someone ask me if I was dressed up as Todd Palin… LOL.  I actually think I look quite a lot like Jaromir Jagr.  I was going to black out a few teeth and or give myself a black eye, but I just didn't get there.
You also get to see the beard progress here.  I worked that into the costume you see, since there is a tradition in hockey called the "playoff beard".  So, all in all, it was a fairly easy costume.  Just a little something today.  I will say, however, that this hair is getting stuck in my beard and is becoming quite annoying.  But, it is the price you pay, right?
If you would like to see the rest of the costumes from our local Boise office, you can see them here: Wirestone Boise Costumes
Also, if you would like to partake in the costumes of our Chicago office, you can do that here: Wirestone Chicago Costumes
If any more links from any more of our offices pop up, I'll be sure to post them.
Some Fort Collins office pics.
Halloween can sure be fun.