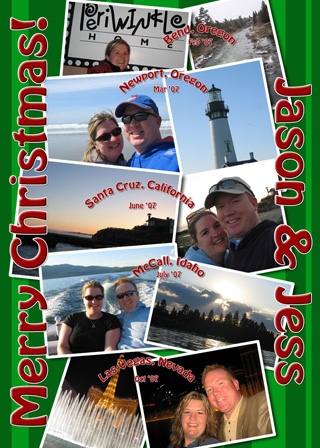 We had a terrific Christmas around here. I hope everyone out there In The World did too.
Here is our Christmas Card for this Christmas!
Everyone who's address I had, has probably gotten one by now. If not, I either didn't have your address, or you didn't send ME one, so you didn't get one.
If you fall into that category, please accept this as our make up. Click on the card to the left to see the bigger version.
The newsletter reads as follows:
His side of the story…
This was quite a year for me. After a quite difficult '06, 2007 promised to be much improved, and it did not disappoint… Beginning of course with the Boise State Broncos beating the Oklahoma Sooners in the greatest game ever played™ in the Fiesta Bowl January 1st. I was there to see it live. Definitely an omen of good things to come.
First and foremost, I suppose the biggest news is that I got engaged. Jessica (see 'Her side of the story' on the back) and I met in Sept 06. We seem to be a perfect match and enjoy a majority of the same things (although her predilection for trash reality TV is not one of them). As our relationship progressed, we decided to live together and I moved into her house this September. After a few short months of living in sin, I figured I had better make an honest woman out of her, and popped the question December 1st. Needless to say, it has been a pretty exciting month. We're both very happy!
The other major change for me this past year has been the long awaited career change. After over 8 soul-sucking years of waiting to be laid off at the sinking ship that is Hewlett Packard, I finally decided that enough was enough and ventured out on my own terms. I left HP and was hired on by a company called Wirestone as a web developer. Wirestone is a marketing solutions company who works with Fortune 500 companies and is probably just about the best place to work on the planet. The differences to HP are night and day. I don't think I could adequately describe in this space how great it is. For example, Wirestone sent all of their employees to Las Vegas for 3 days and paid for everything. The most I ever got at HP was the random Pot Luck. Needless to say, I'm MUCH happier at work these days.
Speaking of traveling, Jess and I ventured all over the west here. We went to Bend, Oregon to visit the Deschutes Brewery… Spring break was spent on the Oregon Coast. We spent her birthday week in June in Santa Cruz/Bay Area, California which was amazing. We had a conference in Vegas (my 2nd Vegas trip in 2 weeks counting the work trip). We also followed the Broncos to Seattle, Washington and Logan, Utah for football games. I'm excited to see where '08 will take us!
Of course, if you aren't already aware, and if you're so inclined, you can keep track of what I'm up to (and read back to see what you might have missed) on my blog. http://jasonhaberman.com
2008 promises to be another terrific year. Wedding plans are progressing rapidly and are nearing solidification. Keep your eyes peeled for more information coming down the pike soon.
Jess and I wish you and yours a very merry holiday season and an outstanding new year!
-Jason
Her side of the story…
Well 2007 turned out to be a pretty big year.
Beginning last year in September when I went on a mini golf outing with some guy named Jason, to really liking this guy, to eventually figuring out this guy is the one, to this guy moving in, to this guy named Jason popping the question and me ecstatically saying yes! So now begins the whirlwind of planning a wedding and just being so dang happy!
Another milestone that I managed to hit was turning 30. It seemed to be easier than I thought partly because some guy showed me that 30 really isn't that bad. So in June off we headed to California. We rented a beach house in Santa Cruz that overlooked the ocean and spent a week there. It was great! We really enjoyed that area and I'm sure we will be back. As you read from Jason, yes we have been traveling all over. Mostly surrounding some sort of football game but no matter.
Goldy (my "oldish" Lab/Retriever mix) is still clomping around. She seems to be happy and very excited everyday for her walk and of course any food that she can get into. She's getting a bit slower but I think that she's becoming more okay with just lounging around the house now that there are two of us around.
I am still working at CAPROCK and they are keeping me pretty busy. I enjoy working for a smaller office and being outside of the corporate world. Of course the downtown location is pretty nice too!
We are both (well at least one of us) are looking forward to planning the big day and all the details! We hope you all find yourselves well and have a wonderful holiday season and a great New Year.
-Jess