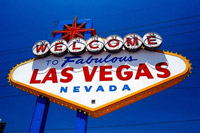 I love Las Vegas. In fact, I'm heading there again with my groomsmen tomorrow for a long weekend of male bonding time. This will be my 10th trip to Vegas in my 13 years of being "of age". In that time, I've seen a lot of things come and go down there. One thing you can be sure of, is that every time you go, it will be different. There will be new and amazing sites and old familiar ones will be gone. It's just the way Las Vegas is.
There have been changes in Las Vegas that have been for the better, but there are also ones that have been for the worse (at least in my eyes). And, in honor of my trip this weekend, I would like to detail some of these out for you.
First the changes that I really like, in no particular order.