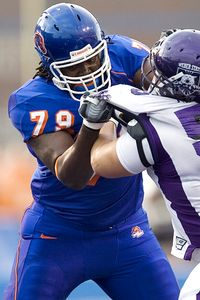 Yesterday , Ryan Clady became Boise State's all time highest NFL draft pick. He was taken at twelve by the Denver Broncos. He doesn't change colors or mascots when going to the pros. I think he will do really well in Denver, because their scheme fits his strength. <football geek speak>They run a zone-blocking scheme which requires some more athleticism than just a straight line up and play smashmouth </football geek speak>.  I wasn't able to watch a large chunk of the first day of the draft for a reason that I will have to tell you more about later.
Clady will always have a place in Boise State lore. You may remember a little play called "statue left", aka. the game winning 2 point conversion in overtime in the Fiesta Bowl vs Oklahoma. His block helped seal the left end of the line (along with current Buffalo Bill Derek Schouman) to allow Ian Johnson to scamper across the goal line.
I'm going to be perfectly honest. As good as Clady was for us, I still don't think he was the best offensive linemen that Boise State has ever had. I can recall numerous times where he was whistled for a drive killing penalty or him missing his guy and giving up a sack. I can't back this up with numbers, but I trust my own eyes.
Still the best OL I have seen here is Daryn Colledge. Now a starter with the Green Bay Packers he graduated 3 years ago. I think he flew a bit under the radar because Boise State was not as well known then as they are now in this post-Fiesta Bowl universe.
Daryn was a 4 year starter for us. He owns both the consecutive games played and consecutive games started records at BSU, with 52 straight. We went 45-7 in his years here. One of his biggest wins was in that Hawaii game where he blocked 2 fourth quarter kicks, both returned by Orlando Scandrick and directly gave us the win.
Whenever he was matched up against a defensive end who had a lot of hype, he destroyed them. Specifically Bill Swancutt of Oregon State and Mathias Kiwanuka of Boston College. Neither of them did ANYTHING against Colledge.
When one is comparing offensive linemen, there is really very little hard data to go on. They don't acrue many stats. I don't think you can even use draft place as a guage either. So much goes into where a player is taken in the NFL. They don't draft for how good a player is, they draft to how they project their game will translate to the pros. Which are not the same thing.
Then again, I'm just a fan, not an NFL scout. As a fan watching the games, I never had the confidence in Clady that I had in Colledge. So, in my book, Colledge will always be the best left tackle to ever come through the school.
All that being said, this is still a great thing for both Clady and Boise State. Having a player drafted in the top 12 is huge. It shows every single recruit that if you're good, you can play at Boise State and still be drafted high. You don't have to go to a Pac-10 school. You will play on national TV 5 or 6 times a year here. You will get seen.
Speaking of Orlando Scandrick, I just saw him get picked at place 143 going to the Dallas Cowboys.
In other ex-Bronco news, Chris Carr made news recently that might have been missed by some of you. He is the defensive back/kick returner who has been with the Oakland Raiders for the past 3 years as an undrafted free agent. He recently signed a contract with the Tennessee Titans for $2 million for 2 years. That is awesome. Despite being with the Raiders only 3 years he is their all-time kick return yardage leader. That is pretty impressive. Congrats, Chris.
It's a good time to be a Bronco.