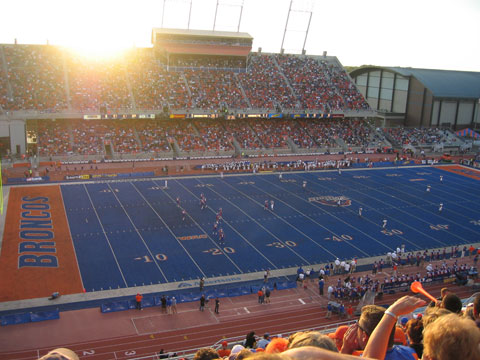 So far this year, I have been so incredibly lax in my writing of Boise State related blog posts.  It is personally upsetting to view my paltry record since the first of the year.
Since January 1, I have posted a grand total of 5 pieces that even mention Boise State.  That is absolutely pathetic.
Of course, I have been a little busier than normal this past 9 months… what with the new job, buying and moving into a new house, and that pesky little wedding and honeymoon thing.  Makes me tired just thinking about it all.
It makes it all the worse when you realize the sorts of things I had to blog about in that time.  I mean, we saw us lose horribly to East Carolina in the Hawaii bowl.  The first time in 5 years we aren't the defending WAC champs.  Long time radio voice Paul J getting unceremoniously dumped on his ass after 36 years of service.  Not one, but two underclassmen declaring for the NFL and both getting drafted.  Construction and completion of the new SkyBox addition on Bronco Stadium.  The blue turf was replaced with a better alternative and the "crown" was removed from the field.  The coaches selecting a red-shirt freshman to start at QB for the first time in program history.  Whew.  How the hell did I miss most, if not all of this?  Oh right… the "busy" thing.
Now, it's game time.  We are 28 and a half hours away from kickoff vs the vaunted Bengals of Idaho State.  I feel strangely detached so far.  I could probably name a total of 12 of the 22 starters on both sides of the ball, but no matter.  We've got real games going on.  Time to buck up and enjoy the hell out of things.
I will say, if you want to see football season hurry up and get here, all you have to do is get insanely busy all summer and BANG… it'll be here before you know it.
I can't guarantee I will pick up the pace of Boise State pieces.  All I can do is say, I WANT to write more.  If that happens, then great.
Game on!