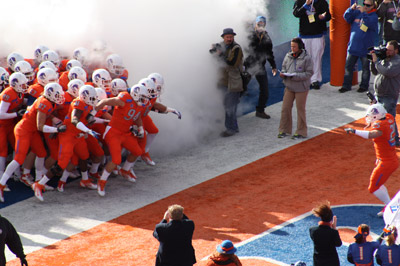 I know I haven't written as much about Boise State football in the recent months as I did early on in this blog. Probably a function of less time to blog, and more important events going on. But, I've held my tongue enough. In the wake of the loss to TCU this past Saturday, I have some observations I'd like to pass along.
Note, I have not read a single analysis, recap or opinion of this game. I've been in a self-imposed 100% media blackout since that field goal try went wide right. So, if anything I'm writing here has been repeated elsewhere just know that these are my thoughts and my thoughts alone.
Also, this is not just about that game, although there will be plenty of thoughts about that in here. There will be season long reflections as well. Some of these things have been nagging away at me, and took the focus of a loss to bring out. For the record, I did enjoy the orange uniforms with the white helmets. Unfortunately, with the outcome of the game we may not see that combination again any time soon…
Here goes nothing.
First off, let me say that losing sucks. Losing at home sucks worse. Having been to every home game since 1992, I've seen plenty of losses. 1996 comes to mind when we went 2-10 including 6 home losses. However, we hadn't lost a regular season home game since 2001. Hadn't lost a home conference game since 1998. That is domination. I don't care who you're playing.
So, this is uncharted territory.
Saturday was the perfect game to highlight what went wrong with this team. Some in our control, some not. There is plenty of blame to go around.
1. I think it was obvious that our coaches got out game-planned. Because TCU had rushed for 390 yards the previous week against Wyoming, that was what Boise State's coaches thought they would need to stop. However, TCU's coaching staff knew that Petersen and co. would go that route, so they decided to go the other way and throw over the top. You can tell that Boise State's defense was geared up to stop the run. That is why the DBs kept jumping on the play action and pump fakes leaving wide open receivers to catch 75 yard touchdown passes. I'm sure they had been drilled during the week that they would need to support the run stoppers. By the time the 2nd half rolled around and adjustments could be made, the damage had been done. I mean, we won the 2nd half 21-16. Unfortunately, we were down 20-14 at half. Side note, we did stop their run. They only had 33 rushing yards on 26 attempts. Unfortunately, they also threw for 473 yards…
2. Injuries. Oh god the injuries. Let me say that we really missed having Jerrell Gavins in this game. The senior CB was having a huge season before his season-ending injury. Jamar Taylor, a junior CB is also hurt. Ebo Makinde apparently pulled his hammy on one of those bombs. This left us with sophomores and freshmen with limited experience at corner. TCUs game plan went right at these guys. While some of these guys will be really good, true frosh Lee Hightower I'm looking at you, they weren't ready for prime time on Saturday.
While we're talking injuries let's look at running back. Drew Wright, the 4th or 5th string running back was in there at the end, to fumble away the chance we had to salt the game away. That fumble is what gave TCU the ball and the chance to come back. Nice enough player, but the guy you want to see running the ball when you're up 35, not at crunch time. Doug Martin, the clear #1 running back was injured a week ago against UNLV. He was in uniform, but obviously couldn't go. #2 DJ Harper had a good day running the ball, but was apparently injured on the previous possession. Malcolm Johnson, who probably would have been the 3rd RB blew out his ACL in fall camp. True freshman Jay Ajayi  could have burned his redshirt year, except he blew out his knee in practice a couple weeks ago. Leaving really only Drew Wright to tote the rock, against a team who's only hope was to force a turnover. Note, after the fumble when Boise State got the ball back, Doug Martin went into the game but he was obviously not 100%.
3. Our receiving corps. We have a lot of good players at receiver. In the off season I got really tired of hearing the national media say how we'd never be able to replace Titus Young and Austin Pettis. I thought we'd certainly have the players to do it. Now, while all of our receivers are good, none of them are explosive. We basically have 5 possession/slot receivers. Shoemaker is really good. Miller is already really good, and may someday be great. That deep ball that Kellen Moore completed to true freshman Dallas Burroughs on Saturday was the first true bomb I can remember seeing all season. We've had long touchdowns, but they've usually been caused by poor defense and were passes of 15-20 yards that the receiver took the rest of the way. Nobody has elite speed. Nobody can get open deep. They can all run good routes and get open, and Moore is amazing enough to fit the ball into tight spaces. But that deep threat is not there. Geraldo Boldewijn was supposed to be that threat, but I just don't think he's up to the task (and he missed the first 4 games of the year).
4. I think we miss previous offensive coordinator Bryan Harsin more than I thought we would. No offense to current OC Brent Pease, but the offense just doesn't seem to have the same spark… that same precision as in previous years. Harsin (now at Texas) is a supreme play caller. He would get a defense on it's heels, then press every advantage. I'm not sure I'm seeing that this year. Feels like we've had way more 3 and outs. I know, fans who complain about play calling are usually idiots and all. I'm not saying I could do it better or anything. I'm saying I think that Harsin DID do it better. That's the limit of my knowledge in that area.
5. Speaking of coaching, the end of the game I have a problem with as well. It's been well known that we have a serious problem in the kicking game. Obviously, when you attempt a grand total of 4 field goals in 8 games, that doesn't scream confidence. Not to mention, I've seen more missed/flubbed/blocked extra points this year to last me a good long time. Now, I don't want to pile on our freshman kicker any more than he's already gotten. Instead I have issues with the coaches. After a decent last minute drive to get in position we had the ball on the 20 yard line, with 20 seconds and a time out. Instead of riding the arm of your Heisman finalist and winningest QB in NCAA history, you decide to have him run into the middle of the field and lay down, to set up that ill fated kick. I will never understand that call. You HAVE to keep the ball in Moore's hands. He's done it before, see VT last year. He's a senior. He was 46-2 for a reason. Instead, you decide to put the game on the foot of a freshman who's made 3 field goals all year. I just don't get it.
6. Frankly, I just don't think we're as good as last year. Good enough to kick Georgia's teeth in. But still, not as good.
7. What really bums me out is with this loss, and the Nevada loss last year, is we've essentially wasted the last 2 seasons of Kellen Moore. We got to the BCS in '10 vs TCU and won. But last year, we were really primed for something special. We'd have gone to the Rose Bowl. Instead we had to choke away that Nevada game. This year we had perhaps an admitted longshot at a national championship game. At worst, we were looking at a probable Sugar Bowl. Now? We'll be lucky to get back into the Las Vegas bowl. It's just depressing. You only get so many chances to see a transcendent player on the biggest stage. We blew 2 of them.
8. I hate having a college football system where we have to go undefeated to get a taste of anything above facing the 8th best Pac-12 team in some crappy bowl nobody cares about. Despite how we've made it look in previous seasons, going undefeated is hard. I don't care who you play. If it was so easy, more teams who play so-called "weak schedules" would do it. That really sucks.
9. I really hope our pass defense isn't as bad as it looked. San Diego State has been known to throw the ball around and we have them in their house this weekend. Yikes.
Ok, on to a few of the more positive things I've got.
1. If we had to lose this year, I'd pick to lose to TCU. At least they have some national cache. If they hadn't choked away 2 early games, they could have easily come in here undefeated. I wanted to beat Georgia. Badly. That gets the "you've never beat an SEC team" monkey off our back. Losing to anyone else would have be way worse.
2. At least now I can stop worrying about polls, and what other teams are doing and everything else. Small consolation, however. Perhaps this next weekend I can just enjoy football without hoping that Georgia is winning, and Oklahoma State is losing or whatever else. I just know that none of it really matters now. That being said, I still did enjoy watching Oregon stomp a mudhole in Stanford's ass Saturday night. I KNEW Stanford was overrated. They hadn't played anyone. At all. And got exposed. That was fun.
3. TCU's coach Patterson said after the game that the Big 12 should absolutely get Boise State into it's conference. Of course, that probably isn't going to happen, but was good for someone to say.
4. All things being equal, we're still living in an era of 46-3 with those 3 losses coming by a combined 5 points.
5. I still love Boise State. No loss, no 10 losses, no 50 losses will ever change that. Ever.
6. When we got home from the game, I was obviously still pretty salty. But we walked in the door and Alex saw me and came walking right over to me wearing her little Boise State shirt. Sorta puts things into perspective. Doesn't mean I have to like it, but perhaps it's not all as bad as it could seem.