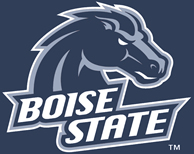 I am going to create a new page for my blog. Everyday I'm going to try to post a new link to some site or article on the web about Boise State Football. Just to get geared up.
I'm not sure exactly how this will look, but I'll play with it for the first little bit.
Here is the Official Boise State Football website: BroncoSports.com
Check back. Get ready for football season!
Tuesday, August 29th
History of The Blue Video.  God, I do love the Blue.  I was at that first blue game in 1986.  And haven't missed a home game there in the past 14 years.
Tuesday, August 22nd
Friday, August 18th
Yes, I've slacked off. I just haven't found that many interesting articles out there that weren't already in the Idaho Statesman (which you should be reading already). But I have one today. Here is an article about recent Boise State recruits out of Northern Orange County California.
Friday, August 11th
Boise State v Fresno State rivalry. Can it be much of a rivalry if they've only beaten us once?
Thursday, August 10th
Early BCS Championship Contenders – Look at the last one on the list. I gotta say, its pretty exciting to be included in these sorts of discussions. Hope we don't implode.
Wednesday, August 9th
New Era, Same Expectations – preview from the Nevada perspective
Tuesday, August 8th
Erickson ends up where he begins, trying to rebuild Idaho. I don't think you can mention this enough, the fact that Idaho has lost 47 games in the past 5 years. Think about that for a second. Thats almost averaging TEN losses a year. Way to go Idaho… For the record, in the same 5 years, BSU has 53 WINS. (including 64-7 and 70-35 victories over Idaho)
Monday, August 7th
Tradition of great Running Backs at Boise State
Sunday, August 6th
The fastest guy on the team. Finally landed in a position.
Saturday, August 5th
Getting off on the right foot. A history of season openers at Boise State
Friday, August 4th
EA Sports NCAA Football video game has had an uncanny ability to predict the outcome of Boise State football games. Amazing.
Thursday, August 3rd
Boise State's Success on the Blue. This is an amazing article. Here are a few stats for how BSU has done playing on their home turf over the past years. 45-2 at home since 1999. (both losses to ranked BCS teams). Since 2000, Boise State has outscored opponents at home 1809-666 for an average score of 45-17. Since Bronco Stadium was built, they have gone 200-50. An 80% win percentage. Unbelieveable.
Wednesday, August 2nd
CAMP OPENS! Broncos are on a mission. And so it begins… And here is a USAToday article talking about what Bronco fans have known all along.
Tuesday, August 1st
Is Nothing Sacred? Column about the WAC-y schedule that some teams, specifically Boise State, are playing in order to appear on ESPN. I agree its crazy, but sometimes, to get the exposure, its worth it.
Monday, July 31st
Sunday, July 30th
The WAC is getting wackier – Why does it seem the Honolulu paper has more articles dealing with Boise State than our local does?
Saturday, July 29th
Mountain West Conference expansion possibilites. Gives pros and cons of possible new memebers including Boise State, Fresno State, UTEP, Nevada, etc. On the other hand, here is an article about the new stability of the WAC after a bunch of changes. Not so fast there, fellas.
Friday, July 28th
Article about new Boise State Head Coach Chris Peterson in the Honolulu Star Bulletin. Good article. I think we're in good hands. I was a little nervous that he had said he never really wanted to be the head man, but I think he'll end up enjoying it and doing a good job. Hopefully he'll be here for the next 10 years.
Thursday, July 27th
Top 5 college football 'value' teams. Its a gambling thing. I know we 'cover' a lot, so do with that information what you will..
Wednesday, July 26th
WAC stuck in the middle of nowhere. AKA, we suck. Side note, I truly love how Fresno people continually spin the fact that they've never won the WAC. Part of me hopes that the win it, just so they can stop being so delusional. Yes, beating the big teams is great… but people remember conference championships. Even if the conference sucks. By the way, if the conference is so bad, shouldn't you have won one by now?
Tuesday, July 25th
WAC Media predict Boise State will win its 5th straight WAC title. Smart bunch, them. Always fun to get one for the thumb. Also, linebacker Korey Hall named pre-season defensive player of the year. That guy is scary. Has been for 3 years.
Monday, July 24th
USA Today's Around the WAC column. Starting with Boise State. Complete with this little nuggett, "In perhaps the most staggering statistic for Boise State, some 54 players earned varsity letters last season. All but eight are expected back this fall. This could really be a special season in Boise â€â€? the depth and talent are there for an undefeated run through the WAC and a chance to make some real noise in the Bowl Championship Series." Niiiiice.
Sunday, July 23rd
Wisconsin State Journal article about the Packers offensive line starting 2 rookies, one of which being former Bronco and best offensive lineman in Boise State history, Daryn Colledge.
Saturday, July 22nd
University of Idaho loses its all-WAC kicker for upcoming season. Awwww.
Friday, July 21st
Broncos sign an additional running back from LA.
Thursday, July 20th
University of Hawaii has pathetic student turnout. 3 to 6 percent of their home crowds are students. Boise State sets aside 18 percent of the capacity of Bronco Stadium for the students. Of course, the only times in the past 4 years when we haven't sold out, it is when not all the students use their tickets… damn lazy college students. I never missed a game when I was there.
Wednesday, July 19th
FoxSports Top 100 Heisman Candidates – Ok, now this is a stretch. No matter what happens, exactly 5 or 6 guys will be in the discussions for the Heisman trophy. So, the top 100 is overkill to the nth degree. Our own Jared Zabransky checks in at 83. Provided he doesn't melt down again like he did last year.
Tuesday, July 18th
New Store in Boise Could Be Bronco Fan's Heaven. An article about the new Blue & Orange Store that just opened in the mall. I might say, it is my favorite store of all time. Every time I go in there, they have the football highlight DVD's playing. Even though I've seen them all a dozen times, I still stop and watch.
Monday, July 17th
Junior College Running Back verbally commits to Boise State. This article is a few days old but this guy sounds like he could be a real game breaker, provided he's healthy.
Sunday, July 16th
ESPN College Game Day's Lee Corso's 10 Predictions for the upcoming season. Check out lucky number 7.
Saturday, July 15th
Fox Sports preview of the Boise State Broncos – Good article. Not completely accurate (at least 1 player they mention has left the team and another is injured), but overall a good job.