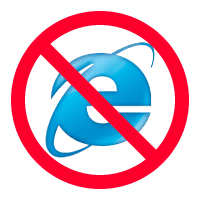 I have spent at least part of every day for the last week and a half at work wrestling with the sites I'm building in order for Internet Explorer 6.0 to play nice.  I've had it.  Fed up.  If IE6 was a horse, we could have shot it a long time ago.  But, it keeps hanging on.  Tormenting me.  Creating hours of extra work and dozens of extra headaches.  I cannot describe how mind-blowingly frustrating it is to design a site which looks perfect in every modern browser only to have IE6 trundle along and blow the whole thing up.
It… just… won't… die.
Looking at the browser statistics, it appears that still 17% of users out there are still clinging to this horribly outdated browser.  In fact, looking at my blog's own stats, I've had 66 visits in the past month from users sporting that devil-spawn of a browser.
I'm not going to get into all of the reasons IE 6 is bad.  Unless you're a web developer the reasons wouldn't make much sense to you.   Suffice it to say, I'm not the only one that feels this way.  A quick google search points to almost 1,000,000 hits on the search terms of "IE 6 die".
IE 6 is an ancient technology.  Seriously.  It was released all the way back in August of 2001.  Read that again… TWO THOUSAND AND ONE.  In case you weren't aware, it is now 2009, you know… just fyi.
For reference what 2001 means in web-years, take a peek at what the web looked like all the way back in 2001.
Youtube.com, Facebook.com, Flickr.com, Gmail.com were not even in existence.
Do YOU want to be using a browser designed to display sites like those?
I ask each and every one of you to do this.  If you are using IE, please click up on the "help" button at the top of the browser, go to "About Internet Explorer" and that will pop open a window.  A version number will be listed there.  If it starts with "Version:6.0…" for the love of all that is holy, please please please please please please please please please update your browser.  Even one fewer IE6 user will make the world a better place.  Browsers are free.  Yeah, they don't cost you one red cent.  Newer browsers have all kinds of user friendly features that IE6 can only dream about.  Trust me.  You'll never regret it.
Get IE7 (you don't even have to go to IE8 yet, ignore that IE8 ad at the top).  Get Firefox (which will keep itself updated, by the way).  Get Google Chrome.  I implore you.
Consider it your good deed for the week.  Plus, you'll be on your way to assisting me to retain what sanity I have left.
Much appreciated.