Yes, that is what I'm going to call myself from now on.  I've been published.  How cool is that?
Ok, some back story.
A couple months ago I saw a tweet from @TheBlueMag that they were soliciting fan photos for their winter edition.  I also got a Facebook message from one of their editors who had seen my Boise State photos on Flickr.com asking if they could possibly use some of my photos.  Of course, I replied right away and said I would be pleased as punch if they did.
Then came the waiting for the issue to come out.
It finally did last week.   By the way, all Bronco Athletic Association members get this with their membership, but you can also order subscriptions.  If you are a Boise State fan at all, you gotta get this thing.  End of pitch.
Anyway, in their fan photos section on page 92, they selected 4 of my pics!  All of which were taken from my seats, in row Z of the upper deck.  5 rows from the back of the stadium.  Needless to say, I find this whole thing completely awesome.  I've never had a photograph in a magazine before.  And even though I was not compensated monetarily, I figure I will still be able to refer to myself as a published photographer.  That's got a nice ring to it, don't it?
Below you will see the page, with my photos circled in red.  Click on the image to go bigger.  You can also go here to view the entire page.  On that site, if you flip to the next page, you will see my name in the photo credits.  Yes, I get geeked about this stuff.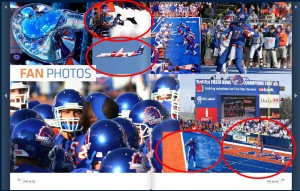 Here are the 4 photos they chose, on Flickr.
Merry Christmas everyone!