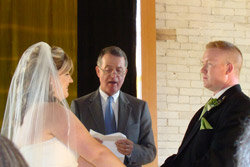 Well, we're done. Literally and figuratively. Jess and I are partied out, hung over, exhausted, yet very very happy.
Big, big, BIG thanks to all who made it to the ceremony and reception. You all made it 10x better than we could have imagined.
We've got family over and more on the way, so I'm off to more mingiling.
We set foot in Maui in exactly 27 hours and 17 minutes.