There are guys in the world that I am amazed by. I love their work, their personalities, everything. Jess calls them "Man Crushes" (click for Urban Dictionary definitions). Now, before you go getting the wrong ideas, let me make one thing perfectly clear… this does NOT mean I love these men in a unnatural sense. Absolutely not. By definition, "Man Crush" means if you could sit in a bar and have beers with a guy and shoot the shit for 4 hours, that would be a great time. All of these guys have personalties such that if they were normal guys who lived around me, I would think that I would definitely be their friends.
Without further ado, here are my man crushes.
Frank Sinatra
Although Frank may not technically qualify for this list, I have to include him based on the fact that he is probably the original Man Crush. I had a HUGE Sinatra phase starting about 10 years ago and running for about 5 solid years. I listened to nothing but Frank. Watched his movies. Read books about him. It was a sad day when he died in '98 and I watched the coverage and tributes to him on cable news all night long.
What makes qualify for this list is that, more than just a performer, how could you not want to spend time with him and the Rat Pack? I would give my right arm to be in Vegas in the early 60's and be part of that scene. And Frank set the tone. Wild parties, booze, broads, and ring-a-ding-ding all while nattily attired in a jacket, tie and a porkpie hat.
As a side note, I would like to recognize that Joey Bishop, the last remaining member of the original Rat Pack died this week. Now, they all can get back to doing two full shows a night in the big ballroom upstairs.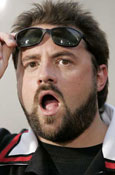 Kevin Smith
Kevin Smith is a writer, director, actor who has written some of the best dialog and made some of the funniest movies I've ever seen. He started with the self-financed "Clerks" way back in 1994, and has been working ever since. His films include "Chasing Amy", "Dogma", "Jay and Silent Bob Strike Back" and "Clerks II".
But, what makes him a member of this list is what he does beyond his movies. I like a lot of directors, but I feel like I know Kevin Smith personally. He has a blog where he writes about his life and his thoughts as well as a online messageboard which he frequents. He has been famous for doing campus lectures all over the country, and although I've never seen one live, he has released 2 feature length versions of his talks. On top of that, he does a weekly podcast (or SModcasts as he calls them) that Jess and I listen to while we go on road trips.
Basically, he is so honest and blunt about life, love, sex, and everything else that he really connects with his audience. Through it all, he is vulgar and hilarious. (The SModcast discussion about toilet paper had me laughing uncontrollably). Like I said, he really gives his fans the feeling that they know him and that he would be your friend in a different world. We've heard his childhood stories. We've heard his dating mishaps. We've heard what he's planning next. Very few people in Hollywood give such candid access to their lives than Kevin Smith does.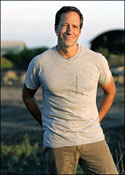 Mike Rowe
Mike Rowe is the host of "Dirty Jobs" on the Discovery Channel. In addition to that, he is the narrator of "Deadliest Catch" and is an all around TV spokesman (most recently for Ford). He originally started out as an opera singer (believe it or not, and still sings) and has some time spent on QVC.
If you have never seen the show, Dirty Jobs is one of the very best on TV. The basic premise is that the world is full of jobs dealing with dirt and slime and filth that us desk jockeys never get to see. So, Mike heads out to film these real people doing their jobs. What takes this show from a simple idea to a full fledged phenomenon is Mike. He gets down in the muck and does his best with the real hard working folks. He has done some of the most disgusting things I have ever seen, which is all the more amazing that there are people doing these things on a daily basis without the TV cameras anywhere near.
The best thing about Mike Rowe is that instead of being a typical condescending TV host, he treats everyone he meets on the show with the utmost respect. He puts himself above no one. He manages to do some of the most disgusting stuff ever, and all the while he is making good natured jokes. Lots of self-deprecating humor. He really has the "feel" of a regular guy. He works hard. He swears (bleeped out, of course). He drinks beer. I get the distinct impression that if you sat in a bar with him, you would get some AMAZING stories that would have you on the floor laughing. Read an interview transcript with Larry King.
It almost makes me wish I had a dirty job and could have him come spend the day with me. I said almost.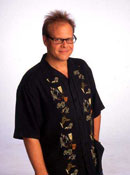 Alton Brown
Alton Brown, or AB as he is often called, is mainly the host of "Good Eats" on the Food Network. But, he is really all over the channel with his hosting of "Iron Chef America" as well as his two specials "Feasting on Asphalt" and "Feasting on Asphalt – The River Run". He also lends himself to all kinds of other Food Network shows like "The Next Iron Chef" or "The Next Food Network Star".
Who is Alton Brown? Well, basically, he's a geek. He's a science nerd. Good Eats is not your typical cooking show. He doesn't just show you how to make stuff. Anyone can do that. What AB does is get into the science and history behind why and how to make some amazing recipes. One can learn all sorts of things just by watching his show. Not just to not over-knead something, but WHY to not over-knead… That sort of thing. For a kid who grew up watching Mr. Wizard every day on Nickelodeon, Good Eats is the logical extension.
Alton Brown, while being extremely knowledgeable is not afraid to make stupid jokes and dress up in goofy costumes to have a good time. He simply doesn't take himself too seriously, and there aren't enough people like that around these days.
I fully credit AB with fostering my desire to cook. He makes me want to try things just to see if I can do it. Plus, being a trivia nerd, his show is a gold mine for me. I love learning about why we eat what we do and how history has affected what we consume. Fascinating stuff.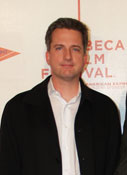 Bill Simmons aka. The Sports Guy
Undoubtedly the least famous person on this list is Bill Simmons, also known as "The Sports Guy". He has been writing columns for ESPN.com and ESPN The Magazine for the past 6 years. He started out writing as The Boston Sports Guy and covering all Boston sports until he got snatched up by the World Wide Leader and expanded his audience 100 fold.
Bill is the kinda guy that every sports fan wants to be buddies with. He has an encyclopedic knowledge about sports, is passionate enough to get into big long discussions about sports, yet can branch out to all areas of popular culture. His articles throw so many random sports, movie and TV references in them you really gotta be on your toes. The funny thing is, that is exactly how my friends and I are. There are millions like us out there who not only love sports, but quote movies like its going out of style or like to bitch about reality TV.
He is a genuinely funny guy. And a great writer. So funny, in fact, when Jimmy Kimmel started his late-night talk show, he tabbed Bill to be a writer for him. He has since gone back to writing his columns full time but he remains close to Jimmy, and always has some great behind the scenes stories to pepper into is stuff. He is, at base, an excellent writer. (A favorite piece)
He writes about sports, he drinks, he gambles, he is sarcastic and quick. The stories of him and his buddies in Vegas are legendary. He also interacts with his audience via his Mailbag columns. He has some very funny and/or disturbed fans that come up with bizarre theories, or hilarious one liners. Sometimes, reading his writing can be the highlight of my day. He has even recently started podcasting as well. Great stuff.
I have talked about growing up in isolated Idaho, and how other than Boise State, I don't really have favorite teams. Well, due to reading Bill's stuff, I do tend to follow the Boston teams just because I'm interested in what he will write about next.
Granted, he is a big NBA fan, which I could care less about. But it goes to his writing style that even though I don't like the NBA, I still read all of his columns. Every one. Do I wish he wouldn't spend so much time on the NBA? Sure. Will it stop me from reading? Not a chance.
You can find his complete archives here. Do your self a favor… read some.
Supposedly, he is working a new book (the first one "Now I Can Die In Peace" was a collection of his columns about the Red Sox winning the World Series in '04). I can't wait.
So, there is the list. I've tried to lay out the reasons and provided examples. I don't expect all of you to love what I love. This is one man's opinion.
If you have a man crush (or a "woman crush" I suppose), tell me who and why.