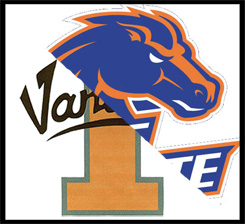 Today was the day. Rivalry game. Boise State University vs. University of Idaho.
Let's just say it was interesting. For those of you who don't know, I am a gigantic Boise State Bronco fan (and an alumnus), Jess is a life long Idaho Vandal (an alumnus). This is the first game day since we have moved in together.
Like I said, it was interesting.
This whole week has been very easy. Neither of us discussed the game much. We have both been so busy lately, we just haven't had the time to gently jab each other about this upcoming weekend. I guess part of that is that the teams are so unevenly balanced at the moment. I try not to rub it in too much, specifically because I still remember when BSU sucked, and its not fun. So, we've been remarkably civil to each other.