Boise State football is seriously something of a dichotomy recently. Let me explain. Reading all of the national press all year, Boise State comes across nationally as somewhat of a novelty. Nice little team from a smaller conference. They don't play anybody. Feelgood underdog story. They have that funky blue field, don't they? Heading into this Fiesta Bowl, I'm sure we will be heavy underdogs. An afterthought.
On the other hand, within the WAC and to a lesser degree the Mountain West (we're 11-0 as a 1-A team against them), we are the evil empire. We are the 800 lb. gorilla. We are the hated bullies who have been so good as to become obnoxious. EVERYONE always gets up when they play Boise State. We get every team's best shot… well, except for Nevada. Most teams, even conference bottom feeders, leave it all on the field against us. Some teams even play out of their minds against us, only to completely fall apart afterwards for the rest of the season.
I'm thinking specifically of Fresno State last year. They finally beat us 27-7 for the first time and rode that momentum into that amazing USC game and barely lost. Then they proceeded to lose 10 of their next 11, including an embarrassing loss to Utah State. Idaho did the same thing this year. Coming into the game, they were 3-0 in the conference and thinking bowl game. They played us like their hair was on fire for 3 and a half quarters. Boise State ended up winning and Idaho went into the tank losing their next 4 games by a combined score of 217-30.
I wonder if there is another team in the country in such a situation. I say there is not. There has not been a more dominant 'mid-major' school in recent history, yet we're still considered a side show on the national stage. I know, those national guys always shout "strength of schedule! They don't play anybody!". Granted, we're not playing an SEC schedule or anything. However, before you dismiss us out of hand, check out some of these stats (heading into the Reno game – from the BSU Media Guide).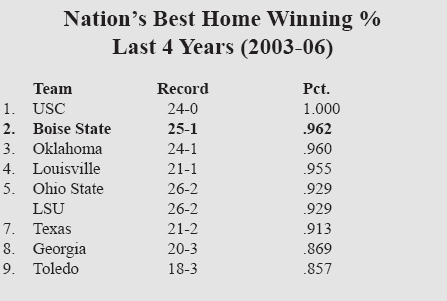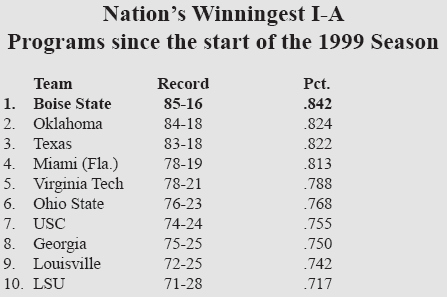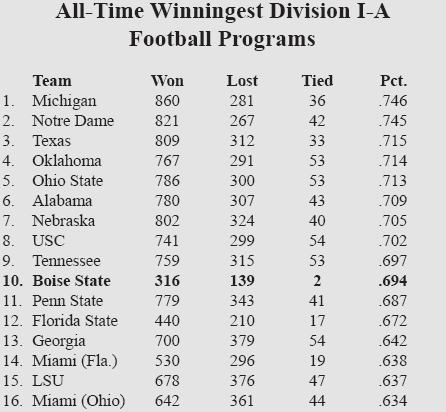 Frankly, those numbers are just sick. That is some seriously rarefied air we're in. But thats not all. Check this out.
Undefeated regular season twice in 3 years.
5 straight WAC conference titles
All time conference record of 45-3 (including 4 undefeated conference seasons '02, '03, '04 & '06)
Boise State has won 55 of last 61 games
75 wins this decade, highest for a western team, 7 more than USC. (by the way, in that same time Idaho has won 20)
51-2 at home since start of '99 season
Highest scoring team since start of 2000 season, 41.8 points per game. 2nd is Texas at 39.5
25-2 when ranked in one of the major top 25 polls
20-4 all time playing on ESPN or ESPN2.
Dirk Koetter left and was just fired by Arizona State. Dan Hawkins left and just went 2-10 at Colorado.
Bronco fans know and understand how successful we've been yet we still understand that we are the new kids on the block. The teams we play certainly understand the quality of Boise State football. I don't care what league you play in, when you dominate like that, you are an elite team.
No matter what the national media tries to tell us.