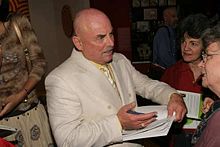 It's a sad day for consumers of movies or television, which is pretty much all of us.
Its possible that name doesn't mean a whole lot to you, but I 1000% guarantee you will recognize his voice.  He has been the voice of over 5,000 movie trailers and over 350,000 television commercials and network promos.  It wasn't a real trailer or promo unless you heard his voice.
He was the one who introduced us to the line, "In a world…".
Really, it kinda feels like an old uncle has died.  You know, the one you never saw very often but got to talk to on the phone regularly?  Don's voice has been so ubiquitous that you couldn't escape it if you tried.
I think I'm legitimately a bit sad about this.  Seriously.  I've always loved this guy's voice.
Rest in Peace, Don.  I'll miss you.