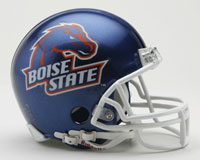 This Friday is the "Big Game" in the WAC as the top two teams, Boise State and Hawaii face off on the island for all the marbles.
I've had a feeling about this Boise State football season that has been banging around in my head for the past few weeks.  I have been unable to put my finger on just what it was.  Maybe it was because I was so busy and didn't have time to think.  Maybe its because the very thought of it was distasteful to me as a fan, and I felt less of myself for even harboring the possibility.  I'm torn.  I've agonized personally but, I've spent some time deep in thought and I have came to a realization…
I would prefer Boise State to NOT play in a BCS game this year.